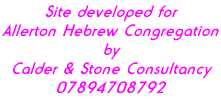 Allerton Hebrew Congregation
Central Synagogue
Malcolm Malits Court
207 Mather Avenue
Liverpool
L18 9UB
What3Words location:
only.leaves.goat
Office Hours:
Mon-Fri:
9:00 am - 12:30 pm
Sun & Bank Hols
By appointment
Tel: 0151-724 4811
Minister:
Rabbi Natan Fagleman
rabbinatan@allertonshul.org.uk
Mobile : 07541 368 656
Administrator:
Mr David A Coleman
Chairman:
Mr Alan S Coleman
Senior Warden:
Michael Lawrence
Imm. Past Chairman:
Mr Jonathan Malits
Hon. Treasurer:
Mr Ellis Haft
Assistant Hon. Treasurer:
Mr Jonathan Beck
Hon. Secretary:
Mr Howard Norman
ALLERTON HEBREW CONGREGATION
CENTRAL SYNAGOGUE
is a Registered Charity, Number: 1169737





There are many organisation in which Israel that need support.
Medical Provisions
Hospitals
Trauma Support
Supporting Evacuees with Basic Needs
Social Support
Providing Food
Providing Food and clothing essentials for the Soldiers.
And much more…………
Here is a list of some Major Organisations: -
Magen David Adom - https://mdauk.org/donate/
WIZO - https://portal.wizouk.org/public/donate/donate.aspx
Emunah - https://www.emunah.org.uk/donate/donate
UJIA - https://ujia.org/ujia-what-we-do/#donate
Hatzola - https://hatzola.org/donate/
Barzilai Hospital - https://www.paypal.com/donate/?hosted_button_id=7LGSUURDKQQXL
Laniado Hospital - https://www.charityextra.com/laniadourgentappeal
This list is by no means exhaustive but covers many of the areas of help required.
The links can be clicked to make donations.
Download a printable copy by clicking anywhere on the Timetable
SHABBAT VAYEISHEV SHABBAT CHANUKAH